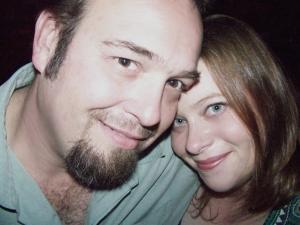 I came to San Antonio, Texas, in October 2007, after meeting my (now) husband on an internet social network site in 2001 (Nooooo, not a dating site!!) and it was shortly after arriving here that my interest in photography was truly ignited. Having been born and raised in the Midlands of England, I had never really opened my eyes to the beauty right there on my doorstep, viewing the world like any other non-photography minded person - "Oh yeah, pretty sunset I suppose"! - and going about my daily life with blinkers on.
Stepping off that plane, though, into the steaming, oppressive October heat of Texas, my vision seemed to clear (while my sinuses filled up!) and I began to really take a wide-eyed look around me.

I remember the first thing I actually noticed while walking with my husband. It was a group of strange looking black birds making even stranger hissing noises, and I inquired as to what they were. Turns out, I'd met my first grackle!
We don't have those in the UK, you see. Crows, jackdoors, ravens, yes - no grackles, so my attention was immediately taken by this whole new concept; "Oh wow, they have different wildlife over here! Cool!!!"
Now, at this point, my photography had been your average kid-type shots of a seagull 3 miles down the beach or an aeroplane that looked like a streak of dirt on a white sky with a fluffy cloud if I was lucky, all taken on my little 110mm camera that cost about 19.99 GBP from Boots the Chemist and had no other settings or functions than the shutter button! After that was my Olympus 3MP which was pretty much used solely for taking photographs of my Ebay listings, and then when I realised that it was pretty rubbish, I took to borrowing my father-in-law's digital camera, which wasn't much better!
And then, on my 32nd birthday, my husband bought me a lovely Kodak EasyShare Z712 IS which I completely fell in love with. It had a 12x zoom, 7.5 MP and had lots of lovely functions to work with.
And so started my love of macro and wildlife photography!
Imagine my delight the first time I captured a pretty good close-up of a hummingbird? Or caught the "Oh God, I hate Mondays!" face on a squirrel perched in the tree outside my window?
I was HOOKED!

And my photography has gone from there. Last year (2011) I treated myself to a CANON Rebel T3 and a telephoto lens, tripod, various filters and a number of editing software programmes.
My dream had begun.
And so, my friends, as I work on building my portfolio, getting in as much practice as is humanely possible, I hope that you'll stay with me on this road towards turning a passionate hobby into something prosperous.
I can quite honestly say that I have never put my heart into anything as deeply as I have with my photography, and I can only hope that this shows in my images.

Please fasten your seat-belts and enjoy the ride!