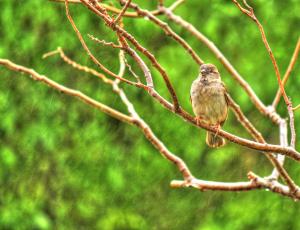 Anyone would think I was back home in England what with all this wet stuff falling from the sky! What a lovely treat though to have this much rain after at least 4 years of drought here in South-Central Texas. The Edwards Aquifer was at an all-time low over last summer, but now that we've had a good amount of rain, let's hope that this coming summer won't be as thirsty for all the plants and wild animals out there!
So what does a photographer do on rainy days?
Well, in the middle of a particular heavy downpour this afternoon (combined with deafening thunder and bright flashes of lightning!), I could be found sitting in my car at the local park with my camera poking out of my window, trying to get some decent shots of early spring flowers nearby.
Good job no one was around or they might think I was a weirdo, hahahahah.
Did I get anything good?
Well, not in the floral sense, no, lol, but I did snap a cute little sparrow perched on a leafless Mimosa branch, braving the elements to chirp away at her husband who was poking his head out of a bush!
So you see? Even when the weather is against you, there's always SOMEthing to catch your eye.... and your shutter!